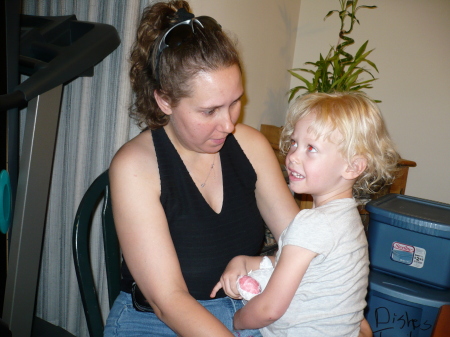 On this day many life times ago, a little girl was born in New Jersey. She was 16 days late and only weighed 6 lbs. 3 oz. Tiny as she was, I was in labor with her for over 28 hours. We named her Jennifer Clare. The Clare was in honor of my mother, the Jennifer was just a beautiful name to us. Through the years, I've come to call her Jenny.
As her mom, I want to honor her today, on her birthday. There is so much to honor. She had a rough beginning coming into the world and not the easiest childhood. She was one of the many who were bullied severely.
However, Jenny, in spite of that rough beginning has taken her life and lived it as pure love and compassion. I don't think I know a kinder person than Jenny. She will tell me stories about the experiences she has and I wonder at her ability to be compassionate and kind even in the most challenging situations.
When I asked her how she feels about her childhood and the period of being bullied, she says, it just makes her feel more caring and forgiving toward others. She holds no animosity toward those who bullied her. She knows, she said, that they must have been suffering greatly, too.
Yesterday, while we were chatting about these present challenging times, she reminded me with sincerity that "everyone is doing the best they can." If I were to honor Jenny with a song, it would be "We Can Be Kind" by David Friedman.
Jenny is a successful in sales. That's what she does for a living. She also has a beautiful singing voice and at one time was a expert country western dancer. She is an amazing mom to her now sixteen year old daughter Jade. She has a kind and gentle partner Jack and they live in New Mexico.
As her mom, I acknowledge Jenny's resilience, her honesty, her pure spirit, her capacity to love and forgive. I acknowledge her ability to be positive even with the life challenges that have come upon her again and again. She is a person I truly look to emulate in my life.
I chose the picture above of Jenny with her daughter Jade taken over a decade ago. Parenthood is amazing and experiencing our children mature and continue the cycle of life speaks of the eternality of the soul. Wow! Thank goodness life is eternal because this earth stage moves quickly. We all must relish all the moments. Remember the song, "Turn around and your grown with babes of your own."
You have grown into an super person, Jenny. Happy Birthday!
With love,
Your Mom, Rev. Rita